SVL (Souvlaki) Bar
3018 Astoria Blvd, Astoria, NY 11102
Order now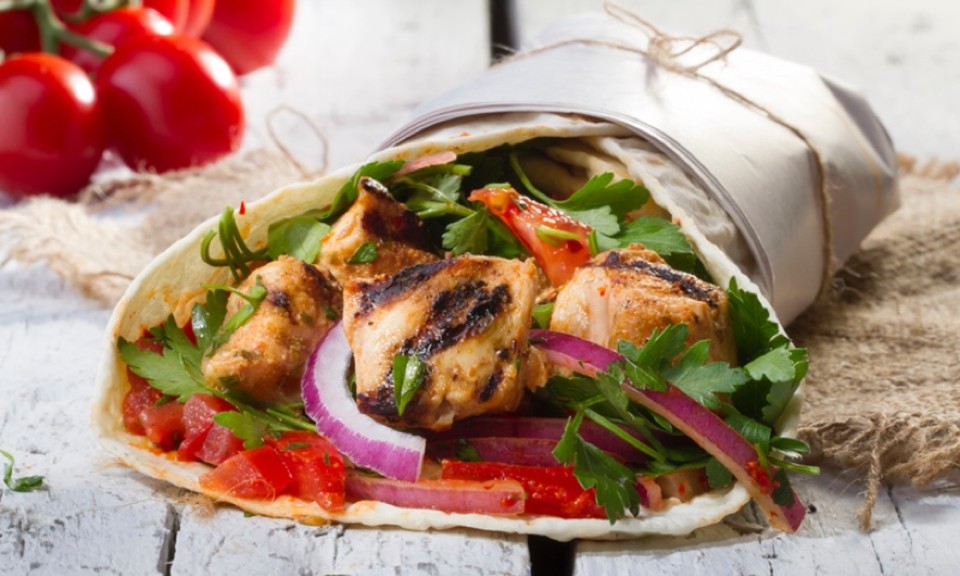 Niki
Hands down best pork gyros in Astoria, also the most authentic too. Tastes just like you would if you were in Greece. One gyro is very filling. Sheftalies are excellent. The only thing I wish is that they were more consistent with their food. This is my go to place, sometimes its amazing and sometimes Im disappointed. I guess thats anywhere but when your gyros are THAT good you expect it every time.
Frankie
Definitely my new go-to gyro and Greek salad spot. Absolutely loved both items. Gyro was the perfect mix of savory rich meat with fresh toppings & love the fries in the pita. I saved the salad to eat for lunch the next day and it held up just fine - wish it came with stuffed grape leaves but other than that was refreshing and delicious.
Alessa
The food was very tasty and they have very hefty portions. Their gyro has a lot of meat and the pita side was delicious! The only thing I personally did not like was that they put fries inside the gyro, but that's an easy fix on my end.
Earl
First time ordering from this restaurant. Will be ordering again. Food was delivered almost 30 minutes earlier than promised. Very nice delivery guy and the food was very good. Definitely worth a try by every one. Highly recommend.
Phillip
Some of the best gyros and souvlaki you will find in an area known for their greek street food. Came in a few years ago and quickly took the crown over a long list of the best greek establishments in NY. Highly recommend!
Caroline
We almost didn't order from them because a bunch of reviews said they take forever to deliver, but we decided to take a chance, and we are so glad we did. They must have worked out the kinks because the estimated delivery time was 7:35-7:40, and we got our food at 7:20.
The order was correct and delicious. We agreed that this will become one of our regular restaurants. The only criticism is that the menu doesn't fully describe what you're getting. Just so you know, the mini gyros (so awesome) each come with tzatziki, tomato, onion, and french fries. The platter of souvlaki comes with tzatziki, but the gyro platter doesn't. Portions are big; good value.
Ryan
The food and service at SVL is great; there were a few hiccups when we first started ordering from here a while back but these have since been corrected. We never stopped ordering from here because the food is just too good and the issues were minor in comparison. We order from SVL almost once a week and absolutely love this place. If you have not ordered from SVL, you should definitely give it a try! It is my absolute favorite place in Astoria! The gyros (including the gyro shots), chicken souvlaki, and the horiatiki salad are hard to beat!
Vanessa
SVL used to be awesome. Then their service became randomly terrible and unreliable. Even the chicken kebab pieces were small and awful. This go around was exceptional. The chicken kebab were big and tasty and flavorful. I recieved the request for extra tzatziki and the salad was packaged beautifully and the chicken kebabs arrived hot. Plus we received the extra whole wheat pita requested. Thank you for a great dinner last night!
Andrija
The food was cooked to perfection and the order was spot-on. Additionally the portions are massive so it feels like you're getting your money's worth. The chicken kabob and pork Kabob were some of our favorites, and it was nicely accompanied with pita bread taziki and greek fries as some delightful side orders. We'll be ordering from here again soon.
Irina
I love around the corner from this place and I've come to love it a lot more than any of the older, more popular neighborhood staples, like the Greek truck or Opa. SVL food is always fresh and delicious, the presentation is impeccable and the staff really friendly. They are my #1 choice of souvlaki/gyro/Greek food.
About us
Chicken, Dinner, Greek, Gyro, Hamburgers, Lunch Specials, Salads, Soup
Today

Delivery: 11:00 AM - 10:00 PM

Takeout: 11:00 AM - 10:00 PM

Delivery

Monday:

11:00 AM - 10:00 PM

Tuesday:

11:00 AM - 10:00 PM

Wednesday:

11:00 AM - 10:00 PM

Thursday:

11:00 AM - 10:00 PM

Friday:

11:00 AM - 10:00 PM

Saturday:

11:00 AM - 10:00 PM

Sunday:

11:00 AM - 10:00 PM

Takeout

Monday:

11:00 AM - 10:00 PM

Tuesday:

11:00 AM - 10:00 PM

Wednesday:

11:00 AM - 10:00 PM

Thursday:

11:00 AM - 10:00 PM

Friday:

11:00 AM - 10:00 PM

Saturday:

11:00 AM - 10:00 PM

Sunday:

11:00 AM - 10:00 PM
SVL Bar offers the best greek menu in Astoria Queens. Stop by for tasty souvlaki, a modern and clean atmosphere, and friendly service sometime soon.